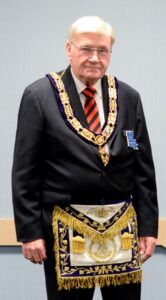 Greetings from the Deputy Grand Master,
My Brethren All,
I am truly humbled to have been elected to serve as your Deputy Grand Master for the 2022 year.  This past March as we assembled in Lake Charles for the two hundred and eleventh Grand Lodge Session was an exciting time for everyone.  After two years of not being able to hold large gatherings due to the pandemic Masons from around our Great State once again met with the common goal of Brotherly Love, to attend to the business of the Grand Lodge of the State of Louisiana, F. & A. M.
Today we are faced with a challenging time, as we see decreasing membership brought on by a number of reasons.  We live in a competitive world and unless we meet these challenges now it will continue.  We can no longer sit back and wait on the world to come to us.  As Masons we need to become more visible in our communities and civic activities. So many times, I have heard someone express they know very little about Freemasons.  Some are not even aware there actually is a Lodge in their area.  I have heard it said we are a secret organization, which may be true.  The only real secret we seem to have is we do not share our ideals with our neighbors. We do a lot of charitable things but seem to be satisfied in our accomplishment and take pride in remaining in the shadows avoiding exposure.  That may be the reason people do not know who we are and that we are very much a part of what goes on in our community.
As New Officers begin to plan activities for the 2022 year consider events surrounding the family, your friends, and neighbors.  Maybe events to include a day of recognition for your local law-enforcement officers, firefighters, councilmen, Mayors, or local school groups. You may call upon your pastors to share an event or join your Worshipful Master at a Sunday Service.  These are in no way new ideas by any means.  You may be more creative and have something else in mind.  If the public is invited to join us in a social event, it could be a giant step toward becoming more visible in your communities.
It was a privilege and an honor to have assisted M:W: Jay B. McCallum, Grand Master, and the Grand Line Officers in Constituting a new Lodge in Paradis, Louisiana.  Congratulations to the Worshipful Master, Wardens, and Brethren of JAMES L. STANIFER LODGE NO. 504 FREE and ACCEPTED MASONS.  M:W: McCallum presented the Lodge with their Charter and installed the newly elected officers in their respective stations Thursday evening April 28, 2022.
Brethren, Masonry is alive and well in the State of Louisiana. Let us all unite with our Grand Master and do our part to build on a solid rock, a foundation for the future of Freemasonry.
May Peace and Harmony Prevail.
Fraternally,
Jimmie Dean Dunkin,  Deputy Grand Master