Grand Master's Message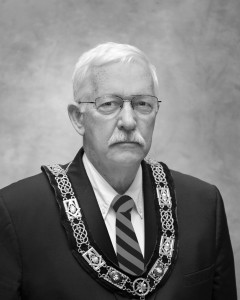 Just a few weeks ago, you elected me Grand Master of the Grand Lodge of the State of Louisiana. F & AM. I have been busy so the time has passed quickly. I have some down time this weekend so I can write you a few lines and take time to reflect on the coming months. You have given me a very great duty to perform for the good of all Masons in Louisiana. The honor that may go with this duty has to be earned; I will do my very best to that end. A short three months ago as I was preparing for this duty I found myself waking up in ICU after bypass surgery. Thanks to some very good doctors and nurses at the start and the tireless help of my Anita I have recovered fully. I had a nice long ride on my Harley yesterday for the Delhi parade. Once again God has smiled on me has He has done so many many times before.
Those of you who attended Grand Lodge got to see an organization in transition. We are moving rapidly from paper to a computer world. I think you will all agree that the electronic voting (planned in just one month by the Grand Secretary) was a nice move into the 21st century: no shouting matches on the floor and no anger over the results. Voting on resolutions and recommendations of appeals and grievances leading to election of officers is the real purpose of the Grand Lodge session. As with all Masonic events, there is also a very important social side to our activities. In our Lodges, district Lodges, and appendant bodies; meeting and getting to know more Masons strengthens the Fraternity. Plans of every sort are best accomplished when many of us work together to gain consensus long before the ideas finally become resolutions before the Grand Lodge. Be a part of that process …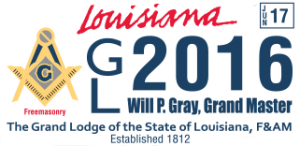 From time to time I hear mention of "purple aprons vs white aprons" as a reason for anger and suspicion among the brethren. I have appointed some younger people to committees and the line. We will soon have a spot on the web site where those of you are interested in working in the Grand lodge structure can sign up with a brief resume so I can select new faces when change is needed. I am a Blue Lodge Mason though I belong to nearly all the bodies in the state system so I can understand the whole structure of Freemasonry in Louisiana. The foundation of all the aprons we wear is the white apron, the one you were presented in the Entered Apprentice degree. It is the important one, all the rest is just window dressing (some folks are making a fortune on regalia). When we meet on the level, we should look at all aprons as though they were plain while.
Three years ago the Grand Master began of providing Bible verses for the lodges to read at their communications. I fully support the plan but will leave it to the Lodges to decide what Old and New Testament verses the Lodge chaplain may choose to read. I also support the plan to remember important groups in our society that our Junior Past Grand Master promoted by choosing the forget-me-not flower as a symbol of remembrance. I will, however, not be sending out monthly plans for those remembrances, each Lodge should be responsible for its own program.
I am very interested in your safety at home, on the road and in Lodge. Please put safety into your life,. Fire safety, auto safety and health safety. Take care of yourselves and your family. Look for what is unsafe in your environment and work to make everywhere you are a safe place. As the quip goes "safety is no accident." As I said at Grand Lodge, be proficient with firearms, get a permit to carry and be prepared to defend. I would like for the public to know that Louisiana Freemasonry is not a gun free zone. I don't want us to be a bunch of open carry gun toting gun nuts but I do want us to be able to defend ourselves.
Warmest Regards.
Will Gray
Grand Master