Instruments of Thanksgiving & Praise
Psalm 100: A Song of Thanksgiving

1 Shout joyfully to the Lord, all the earth.
2 Serve the Lord with gladness;
 Come before Him with joyful singing.
3 Know that the Lord Himself is God;
 It is He who has made us, and not we ourselves;
 We are His people and the sheep of His pasture.
4 Enter His gates with thanksgiving
 And His courts with praise.
 Give thanks to Him, bless His name.
5 For the Lord is good;
 His lovingkindness is everlasting
And His faithfulness to all generations.
This month we celebrate a tradition that is as old as America – Thanksgiving Day. For many folks, Thanksgiving is a day when families gather for a delicious feast, warm fellowship and for some, sitting in front of the television to watch football, but in all reality, the day is set aside for much more. It's a time to contemplate and be thankful for God's providence in our lives. Thanksgiving is the time of year to focus on the countless reasons we have to be grateful to our Creator for His many blessings. As children of God, we should never forget to give thanks to God each day and should make it a priority to be instruments of Thanksgiving and Praise. Psalm 100 is a song of thanksgiving and offers a lesson on the how, the who and the why we owe thanks and praise to God.
The first 2 verses reveal how we are to enter God's presence to give thanks and praise:
• We are to enter with joyful shouting. When we declare our praise for the Lord, it should be done for the whole world to hear. We should be excited enough to shout joyfully and raise a sound of praise.
• We are to enter with joyful service. We are to never to let our labor for the Lord become a drudgery. We serve God out our love and not out of obligation. Serving God is not a chore, but a privilege.
• We are to enter with joyful singing. The word in Hebrew literally means a ringing cry.
When we realize all God has done in our lives, it should inspire us to lift our voices in song to exalt God to all, giving Him glory and praise.
Verse 3 reminds us who God is and who we are in relation to His person. He is the Great Architect of the universe. He created everything and everyone in it. He created us & formed us in His image. It is God who gave us life and sustains us throughout our lives. Because of His great love for us, He made a way for us to overcome sin and death. We belong to God – We are the sheep of His pasture. The more we learn about who God is and who we are in Him, we have even more reason to praise Him.
In the 4th verse, the psalmist gives a similar command as at the beginning referring to how we are to enter God's presence. It stresses the importance of giving thanks and praising God. We need to acknowledge His eternal goodness and our lives should be a constant display of gratitude for all the blessings He bestows in our lives. The psalm closes with verse 5 by reiterating why we are to give thanks and praise to God. We praise God because of who He is and what He has done in our lives. "Give thanks to the Lord, for He is good and His love endures for ever."
Yes, God is good, He is loving and He is faithful. This is why we praise Him and give Him thanks. James 1:17 offers this fundamental wisdom, "Every good thing given and every perfect gift is from above, coming down from the Father of lights, with whom there is no variation or shifting shadow." All good things in our lives come from God, so it is only right to give Him praise & thanksgiving. As you ponder the many blessings God has bestowed upon you, I encourage you to be faithful and let your life be an instrument of Thanksgiving and Praise.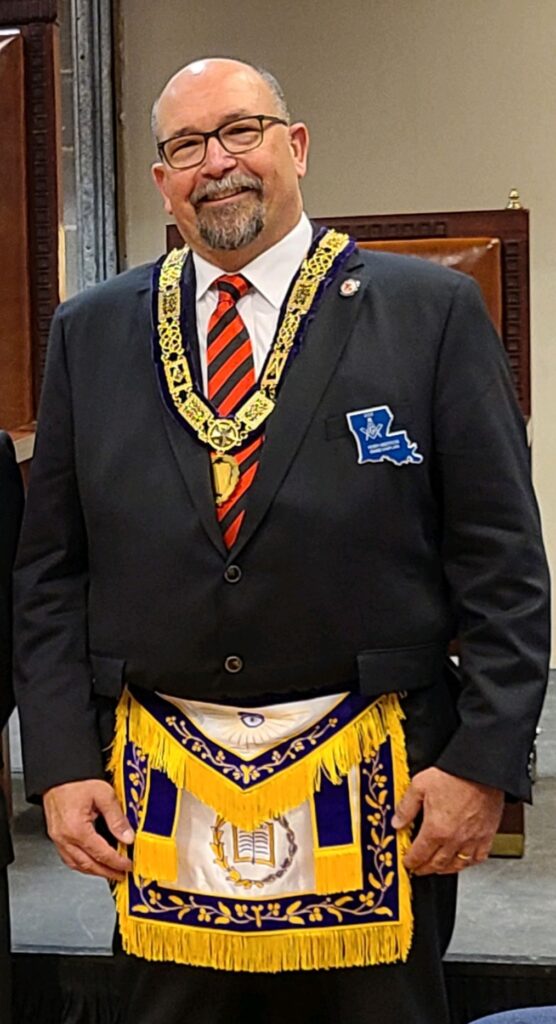 W∴B∴ Perry Anderson
Grand Chaplain