A Message from our Grand Master:  Looking Back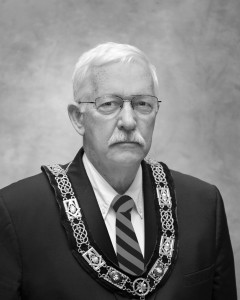 With about three-fourths of my extended term as Grand Master behind me, it seems appropriate to review some of what has happened during those 13 months.  In the three years prior to my term as Grand Master, I visited all the Lodges and District Lodges in the State as a means of refreshing my knowledge of Louisiana (thirty years in the Navy erased much of what I knew of Louisiana as a teenager in Moreauville); I also needed to build on my knowledge of Louisiana Masonry since I was raised to Master Mason late in my life (2004).  I found us a warm and friendly (some groups are very careful at first meeting) fraternity but weak in our work and not fully in compliance with our Laws.  My travels were also a good refresher regarding the differences in the cultures found in the several unique areas of the state: New Orleans, South of Lafayette, East Louisiana, Lake Charles, North of Alexandria, along the Mississippi and West Central Louisiana.  We have Lodges that see no need for the function and expense of the Grand Lodge.  We have Lodges that actively resist the use of computers and the Grand Lodge database built for their use.  We have groups that identify themselves politically within the Craft (White Hats vs White Aprons) as a means of advancing their particular view or controlling those who advance in the system.  Some of this is not good for peace and harmony.  Masons are very adept at carrying grudges.  Some are concerned with their legacy based on their work in a particular program or practice.  Those who simply exhibit the nicest qualities of Friendship, Morality and Brotherly Love are the very best of us.  Theirs is the quality we should all strive to emulate.
Financially we are in difficulty vis-a-vis the state of our brick & mortar facilities (signage, grounds, paint, roof, air conditioning and heating, insurance, lack of handicapped provisions, no second way out, no fire escapes, etc.).  Our buildings are old and many are in need of maintenance that has been ignored for decades yet our dues and fees remain very low, embarrassingly low, which is even more of a problem due to the decline in dues paying membership.   We are old and cheap to put it bluntly: how much is your membership worth to you?  Some Lodges have annual dues so low that you could not pay for single order of a burger meal combo at a fast food outlet for the full amount of their dues.  Ours is the oldest/largest fraternity in the world: what is it worth to you: a dollar a day, a dollar a week or as in some Lodges a dollar a month?  This is a ridiculous situation.
We need to consider charging much more for the Entered Apprentice degree as a means of ensuring that the candidate really wants to become a Mason and that after the first degree, he will feel compelled to continue because of the money he has invested.  Higher fees would make it less likely that men, with just a passing curiosity, would spend the money and those who do pay a higher fee, will likely continue on the become Master Masons.
Only about 10% of our members routinely attend their Lodge.  It is not uncommon now to find Lodges that cannot open or do business for lack of members present.  Lodges that meet twice a month plus having practice sessions do best.  Those that meet twice a month are the normal case.  Those that meet only once a month are usually on the path to failure.  Lodges where the Secretary does not routinely visit the Lodge page on the Grand Lodge web site are missing out on much of what is routinely offered.
As I write this, I note that our membership is in steady decline from death and suspensions for Non Payment of Dues.  There remains a lingering suspicion of the Grand Lodge as some far off body that controls and wastes money.  We are down to just at 16,000 Masons on the rolls and there is no evidence that we will rebound and grow.  Most of our Lodges have no programs in place that would interest new members.  The Meet, Eat and Leave mode is the most common model of our Lodge communications.
At the Grand Lodge level, much has changed to support our Lodges but not all are interested in what has been done.  We have a new and functioning database that gives us good control over the records of our members.  Our Grand Secretary has reorganized the workforce at the Grand Lodge office: the three principal ladies who do our work are nothing short of amazing in their productivity and demeanor.  It is as good as it gets!  Call them with a problem and you will get the best possible help available anywhere.  Through the efforts of our Grand Secretary and with the help of his staff, the Grand Lodge has reduced cost of operation in every area.  You saw the effect of electronic voting on the actions of the Grand Lodge at our last session.  We are ahead of the curve in the world of electronics and data record keeping.
We can conduct raffles now to raise money for our Lodges.  You are welcome to conceal carry in our Lodges for our safety from Islamic terror.  I have terminated the Perpetual Membership program because it was a very bad financial deal for the Lodges and the Grand Lodge.  Soon you will be able to have your dues automatically paid via credit card so you are never again late on your payment.  I would like to see us insist that every Mason is in good standing and has a current dues card in his pocket.  We have instituted the three levels of proficiency program put in place by Grand Master Mollere last year.  I have restructured the Permanent Committee on Work to make it more effective in the administration and standardization of the work.
We are dealing with a large number of trials due to members failing to live up to their obligation.  Un-Masonic conduct is simply not acceptable in Louisiana and I am doing my best to deal with those who should not be among us.  The Shrine with its 22 hospitals is the world's Greatest Philanthropy whose members raise large sums of money for the hospital system.  Unfortunately many Shriners never attend their Lodges and fail to follow their Masonic Obligations or learn about and follow the Handbook of Masonic Law.  This lapse in their knowledge and practice occasionally causes much difficulty for the Grand Master when un-masonic conduct occurs.  We must hold ourselves to the high standards demanded by our Obligations and Laws: in every case Past Masters should encourage the best behavior and performance in Lodge.
In short I am having a very busy time as Grand Master; I consider it a great duty to serve this wonderful Fraternity.  I hope my work will advance the Craft and that Louisiana Freemasonry will be all the better for my effort and the effort of the many many Masons who have helped me during my time in this office.
In the four months remaining in my term, I hope to finish a number of projects that have occupied my time and to prepare the way for my successors to accomplish programs that they may institute for the good of the Craft. While there remains much gumbo, jambalaya and catfish to enjoy with you fellows, I am working to drop a few pounds to be ready for the hunting and fishing with my grandchildren that I will be spending time with in the coming years.  Take care of yourselves, be healthy, enjoy life, remember your obligation, and grow Freemasonry.  And remember, Freemasonry is not a gun free zone.
Will Gray
Grand Master